2020 Andy Evansen - Studio & Plein Air Landscapes in Watercolor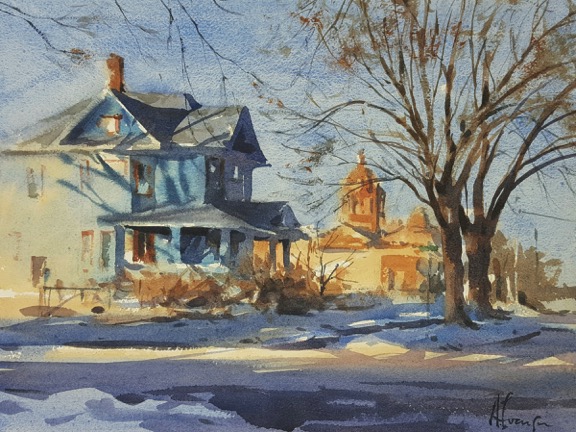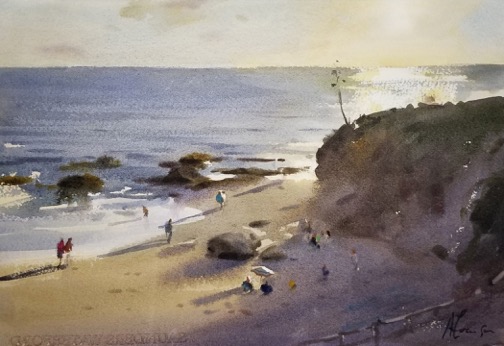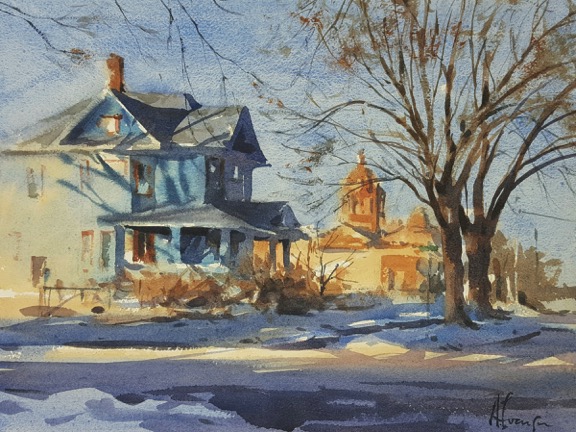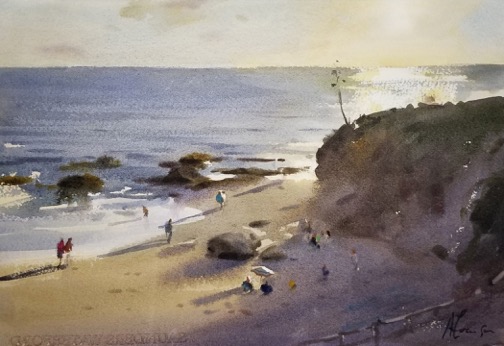 2020 Andy Evansen - Studio & Plein Air Landscapes in Watercolor
2020 Dates: June 16, 17, 18 (TUES-THURS)
TIMES: 9AM - 4PM
PRICE: $TBD NON-MEMBER
/$TBD MEMBER
Would you like to be contacted when we have more info?:
"There seems to be a never-endinq quest to loosen up in watercolor. I hear it from my students all the time. It's easy to fall into the trap of putting too much into your paintings, and editing out the non-essential whether working from photo reference or painting on location is so important.
Painting loosely doesn't just 'happen', it comes from gaining a comfort level with your skills and materials over time. However, there are techniques that can speed up this process.
My workshop will focus on using value studies from the outset to identify the large shapes in a scene. These large shapes provide the artist with opportunities for lost edges when painting in watercolor, which is essential if we are to take full advantage of the medium. Too often the 'found edges', or details, take over the painter's thinking process, and the result is a tight watercolor.
We will move on toward color paintings with a lot of individual help, and if time permits we will complete a painting together. Demonstration paintings will be done by Andy every day to reinforce the day's lessons.
The first day will take place in the studio, so I can better explain my process through a value study to color painting. Weather permitting, we will venture outdoors on the second day where I will once again demonstrate and give students an opportunity to work on location. Please come prepared to work both indoors and out.
In order to loosen up it is imperative to have a clear vision of what you want to accomplish with your painting and then execute it quickly. This class will give you the tools and confidence to do just that."
Materials list:
Andy Evansen Watercolor Workshop supply list
-Paper; please bring a pad of cheaper watercolor paper for value studies as well as
good quality paper, quarter sheet size, for paintings.
-Paint; I use Winsor & Newton paints, students can use what they're used to.
My palette consists of Neutral Tint, Paynes Gray, Ultramarine Blue, Cobalt Blue, Cerulean Blue, Sap Green, Raw Sienna, Burnt Sienna, Quinacridone Gold, Alizarin Crimson, Cadmium Red, Cadmium Lemon.
-Palette; must have good size mixing area. The John Pike palette is wonderful.
-Brushes; Use what you're comfortable with, but I typically use a squirrel hair mop brush for big early washes, a size 16 sable for the intermediate washes, and a smaller size 10 synthetic for detail work.
-No. 2 pencil and kneaded eraser
-Water container
-Household spong
-Reference photos. I will have some for the students to use as well, but prefer they
work off their own
*Cancellation Policy: To reserve a space a 50% deposit, including a non-refundable $20 application fee, is required. Full payment is due 60 days prior to the workshop. No refunds will be given within 60 days of the workshop unless we are able to fill your space. Once a workshop is wait-listed full payment is required no matter of the date. Cancellation requests must be in writing.
Thank you to our workshop sponsors, the Chatham Bars Inn and the Chatham Wayside Inn, for graciously accommodating our workshop Instructors.